Kerry Chooses Edwards As His Running Mate
In a stunning announcement (bullshit, hiss, spit, boo) Senator John Kerry a.k.a., Waffles, a.k.a SKerry, a.k.a., John F-ck Face Kerry, "the liar", the moron, the piss poor example of a veteran etc. has announced his running mate.
In a real shocker of a move he has announced that John Edwards would be his running mate. No really?!? Did he actually pick the one person that may actually help in his efforts to run for president?
Here we have another fine example, of just how dumb this man really is. How does it help your credibility to choose a running mate that you had previously badmouthed?
In actuality it was a very smart move. Edwards is the only person that Kerry could have chosen if he really wanted a shot at the presidency. Edwards is much more conservative than Kerry and may bring just a touch of sanity to the Democratic Party ticket.
All that being said, I still wouldn't vote for Kerry, even if Beelzebub himself were the current president!
SlagleRock Out!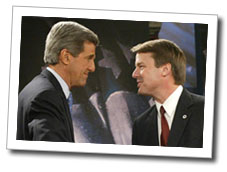 Posted by SlagleRock at July 6, 2004 08:24 PM