It's Fun To Shoot Some People
Marine general: It's 'fun to shoot people'
Commandant gives counsel, acknowledges wrong word choice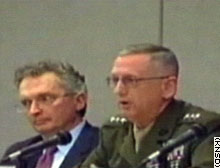 Lt. Gen. James Mattis, right, speaks during a panel discussion Wednesday.
A three-star Marine general who said it was "fun to shoot some people" should have chosen his words more carefully, the Marine Corps commandant said Thursday.

Lt. Gen. James Mattis, who commanded Marine expeditions in Afghanistan and Iraq, made the comments Tuesday during a panel discussion in San Diego, California.
Why should he have chosen his words more wisely? Everyone is thinking it, Lt. Gen. James Mattis, just had the balls to say it. Semper Fi, General! Have we already forgotten the 3,000 plus Americans that were butchered on September 11, 2001? What about Nick Berg and Paul Johnson and numerous other innocents brutally beheaded by terrorists.
That is a sad fact about our society. We are a nation full of fair weather patriots. Had General Mattis made this same remark on 9/12/01 he would have had the support of all the major main stream media outlets and the American people.
"Actually it's quite fun to fight them, you know. It's a hell of a hoot," Mattis said, prompting laughter from some military members in the audience. "It's fun to shoot some people. I'll be right up there with you. I like brawling.

"You go into Afghanistan, you got guys who slap women around for five years because they didn't wear a veil," Mattis said. "You know, guys like that ain't got no manhood left anyway. So it's a hell of a lot of fun to shoot them."
Abso-Fuckin'-lutely! These animals treat their camels and their goats better than their wives and children. They want to destroy anything that resembles civilized society. Crush everything that is knowledge, advancement. Live in the stone age and force everyone around you to do the same thing.
Mattis' press office has not yet responded to a request to answer questions about his comments.

However, the Marine commandant, Gen. Michael Hagee, defended Mattis, calling him "one of this country's bravest and most experienced military leaders."

"While I understand that some people may take issue with the comments made by him, I also know he intended to reflect the unfortunate and harsh realities of war," he said in a written statement. "Lt. Gen. Mattis often speaks with a great deal of candor."
General Hagee didn't need to defend General Mattis, he is a three star general in the United States Marine Corps. He has risen to a position within our military that such a small fraction of our population could ever hope to achieve. He is responsible for thousands of American lives and billions of dollars worth of equipment. The man has seen the harsh reality of war and tells it like it is!
"Throughout our history, Marines have given their lives in the defense of this nation and human rights around the globe," Hagee's statement read. "When necessary, this commitment helps to provide us the fortitude to take the lives of those who oppress others or threaten this nation's security. This is not something we relish, yet we accept it as a reality in our profession of arms."

"Lt. Gen. Mattis is a superb leader and one of the Corps' most courageous and experienced warriors," Hagee wrote. "I remain confident that he will continue to serve this nation with dedication and distinction."

Added Marine Gen. Peter Pace, vice chairman of the Joint Chiefs of Staff, "The last three times that that general has been in combat, when he was leading Marines in Afghanistan and the two times that he led his division in Iraq, his actions and those of his troops clearly show that he understands the value of proper leadership and the value of human life."
I can't imagine any sane person enjoying taking the life of another human being. But when you have seen your troops die for another nation and then seen people of that nation try to kill you for it, it changes a person.
Call his remarks flippant, inappropriate, and rude or politically incorrect. Call it what you want. I call it the harsh reality of war.
Semper Fidelis General Mattis.
SlagleRock Out!






**UPDATE**Since I am getting quite a bit of traffic from Fazed.org I thought I'd say hello to anyone who came from this page. However since it is obviously a liberal agenda page, I'll say this. I don't think the General enjoys killing people, nor do I think he meant to berate or belittle Muslims, I do however think that he has lived the harsh reality of war and until you have you are not fit to judge. Remember when you were a kid, "Sticks and stones may break my bones, but words will never hurt me." Find a real issue and give it half as much effort as the Libtards of the world put into trying to be politically correct and maybe just maybe we wouldn't need to defend real patriots or fight wars, maybe this would be a better place for everyone to live.
**UPDATE**The Council on American-Islamic Relations, a Muslim civil liberties group, called on the Pentagon to discipline Mattis for the remarks.

"We do not need generals who treat the grim business of war as a sporting event," said the council's executive director, Nihad Awad. "These disturbing remarks are indicative of an apparent indifference to the value of human life."
Sporting event? Pardon my French but Fuck You Asshole! General Mattis was talking about scum like the Taliban and foreign insurgents. He wasn't talking in general or about all Muslims. He wasn't referring to law abiding, Allah fearing Muslims. Don't get your towel on too tight, your little pee brain might pop out of your ear.
Others covering this:
Spats at the Anti-Idiotarian Rottweiler
Posted by SlagleRock at February 4, 2005 12:04 AM