The Man Of Steel Returns
A long 11 year road in the making...
In 273 days Superman Returns
For any of you whom may be Superman fans there is a good article in Newsweek about the 11 year road that finally ended up with Bryan Singer producing "the most expensive film ever".
Here is an excerpt from the Newsweek article: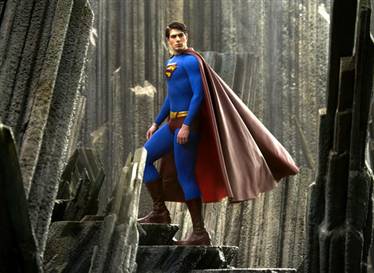 It's taken Warner Bros. 11 years to get 'Superman Returns' off the ground. Not exactly faster than a speeding bullet. Now 'X-Men' director Bryan Singer's at the helm in Australia. An exclusive visit.

By the time "Superman Returns" lands in theaters next summer, it will have taken Warner Bros. 11 torturous years to get the movie off the ground. At one point in the mid-1990s, Tim Burton was going to direct Nicolas Cage as the man in tights. The next big plan was "Superman vs. Batman," directed by Wolfgang Petersen. Then, a few years ago J. J. Abrams, creator of the shows "Alias" and "Lost," chipped in a "Superman" script that whipped up a frenzy around the lot. It was teeming with huge action sequences, but altered the Superman myth. (In Abrams's version, the planet Krypton survived.) Director McG was dying to direct it, but couldn't because he had committed to make "Charlie's Angels: Full Throttle." Brett Ratner signed on, but tussled with the studio over the budget—at one point it was estimated at more than $200 million—and left after six months. McG then stepped back in to direct, but location became a problem. By shooting in Australia, the studio could shave about $30 million off the budget. McG refused to fly, so the studio showed him the door.
Yeah, I know, I'm a dork. I just thought I'd share the picture and some info on the Man of Steel.

lagleRock Out!






Posted by SlagleRock at September 29, 2005 02:44 PM | TrackBack